BUILD YOUR "FORD ELITE" CHARGEPOINT CHARGING PACKAGE

EVunited is here to help Ford Dealerships achieve "model E" compliance. We are here to assist your dealership deploy sustainable EV charging by...
Identifying & applying for grants & incentive programs for EV charging

Providing turnkey EV charging solutions

Offering financing - short term & long term financing options available

Building Solutions with our diverse portfolio of EV charging solutions
To help make deployment as quick and easy as possible, we've partnered with ChargePoint to provide EV charging bundles.
To get started, you can either request a quote for a specific charger a la carte or request a turnkey quote by filling out the form below.

BEST NETWORKED, CUSTOMIZABLE LEVEL 2 CHARGING SOLUTION
CHARGEPOINT LEVEL 2

19 kW
ChargePoint's 19 kW level 2 charging station meets Ford's requirement for Level 2 charging. Offering complete control, reliability and a user experience that keeps drivers and owners happy, ChargePoint makes it easy to meet the evolving charging needs of today and tomorrow. As the industry-leading solution, driven by intuitive network software and robust station hardware, this charger helps businesses maximize charging utilization and operational efficiency. Flexible controls, power management tools and extensive network coverage make it simple to get started, make changes and scale for growth.
Comprehensive charging management software provides all the tools you need to efficiently accomplish your business goals.

Eliminate uncertainty and make charging work for your business with easy station settings, real-time status and analytics.

Make your investment go further with tools to increase station usage and the number of drivers each port can serve.

Reduce upfront infrastructure and ongoing energy costs through the Power Management feature.

Get the most out of your investment with an advanced, integrated solution that's ready to serve your business, now and in the future.

Tailor charging to your needs with flexible hardware configurations and network settings.

Manage cost and complexity as you grow.

Simplify maintenance and future upgrades with modular station architecture.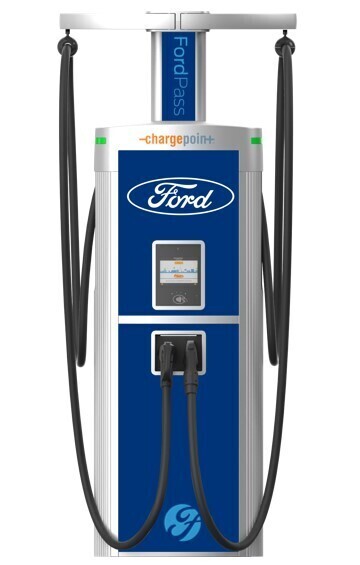 BEST FOR PUBLICLY ACCESSIBLE & MODULAR DC FAST CHARGING
CHARGEPOINT Express Plus System - Modular DC Fast
Our modular 350 kW DC fast charging system is built to scale with your needs and ready for the future of charging. The Express Plus system includes Power Blocks that house up to five Power Modules and deliver power to up to eight Power Link dispensers. Combine Power Blocks to deliver more power.
Able to deliver up to 350 kW per port, the power needed to get drivers quickly back on the road.

Designed to scale by power delivered, vehicles served or both.

Open, flexible and integrated solution works with the vehicles of today and tomorrow.

You'll enjoy future-ready fast charging with over-the-air updates.

All components are architected for optimal efficiency, scalability and serviceability, including field-replaceable 40-kW Power Modules.
FREE EV CHARGING CONSULTATION
Ready to learn more about EV charging? Schedule your virtual consultation with one of EVunited's Clean Energy Specialists today!
NEXT STEPS -
An EVunited Representative will reach out to you to set up a virtual consultation.
During this consultation, we will discuss the following:
Your EV Charging Goals
Alternative EV charging solutions (not listed above)
Budget
Local Incentives & Grants
Equipment Only vs. Turnkey Services - engineering,
electrical make-ready, & installation support
Financing