EV Charging for your Home
Charge at speeds you desire, when you desire.
Having an EV charger at your home allows you to more efficiently and quickly charge your EV at home, while managing and monitoring your charging and energy usage.
Meet ChargePoint Home Flex
The ChargePoint Home Flex charger is both top tier in performance and quality. The ChargePoint Home Flex is also universal, meaning it will work with any EV, including Teslas.
ChargePoint's state-of-the-art, fastest and most flexible Level 2 home charger. Delivering up to 50 Amps and adding up to 37 miles of Range Per Hour to any EV, ChargePoint Home Flex allows you to select the charging speed and charger amperage that's right for you, your EV and your home's electrical panel, today and in the future. Use the ChargePoint app to make owning an EV even easier by scheduling charging, getting reminders to plug in, connecting to Alexa and more.
AVAILABLE IN THE FOLLOWING CONFIGURATIONS: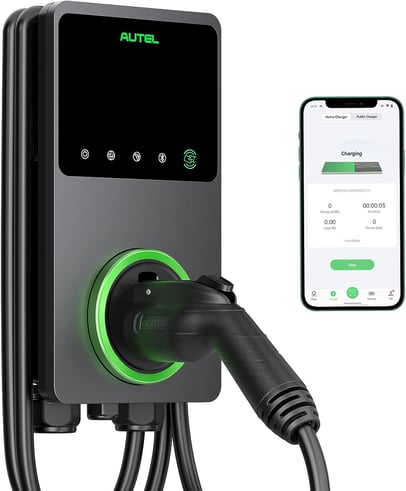 Meet Autel MaxiCharger Home
The MaxiCharger AC Home EV Charger is a Level 2 EV Smart Charger compatible with all EV and Hybrid Plug-in vehicles. It features a sleek contemporary design in dark gray with in-body holster and is installable indoors or outdoors.
AVAILABLE IN THE FOLLOWING CONFIGURATIONS:
How Long Does It Take To Charge My Car At Home?
Charging times vary by the type of Charging Station and the vehicle's on-board charger. With your own EVunited EV charging station, your vehicle can be conveniently charged overnight in your garage at home. Wake up the next morning - recharged with a full battery and range.
Need charging for an apartment or condo?
The Home Flex can be installed in most homes, apartments and condominium communities. You will need to confirm with your HOA or property manager that you can an install an EV charger at your parking spot. EVunited also offers EV charging solutions specifically designed for apartment and condo communities. Reach out to EVunited to learn more about which solution is best for you.