EV Charging. Solar + Storage.
We're here to help the decision makers of today become the clean energy leaders of tomorrow.
At EVunited, our EV charging and Solar specialists are on a mission to make clean energy solutions accessible, affordable, and easy for all. Our solutions are designed for where you live, work, dine, shop, and play so you can take control of your energy use and see the impact it has on our planet every day.
EVunited is dedicated to building an infrastructure for electric charging stations throughout the United States. We offer high quality Electric Vehicle (EV) charging solutions that are simple, scalable and user-friendly. Our chargers provide solutions for a wide range of verticals including convenience stores / fueling centers, workplaces, hospitals, multifamily properties, airports, retailers, restaurants, municipality, parking structures and other verticals that are tailored to meet your charging requirements.
EVunited offers a "turnkey"​ approach to sourcing and installing EV chargers. We emphasize "ease of process"​ which includes site surveys, implementation, and post support from our organization. We also help maximize the federal, state and local incentives available to encourage companies to install EV charging stations. These programs along with tax credit considerations are available to offset your investment in EV chargers.
Our mission is to help bring awareness to the benefits of Electric Vehicle Charging & Solar adoption, further Educate and Unite with our Partners to accelerate the availability of the EV Charging network throughout the U.S., as well as introduce commercial Solar solutions that help businesses and owners reduce their electrical utility operational costs.
Partnering with a turnkey provider such as EVunited, will simplify the contract and installation processes, minimize touchpoints, maximize internal resources, and provide a standardized installation timeline for each individual site at scale. EVunited is equipped with the industry knowledge and deployment expertise to provide recommendations that will provide maximum benefit. There are many factors involved in selecting the right partner who can offer the quality, support, extended support, additional communication, cost, and delivery needs to successfully support this type of rollout. As EVunited specializes in turnkey EV charging solutions, we provide the technical knowledge & industry expertise needed to plan, implement, and manage multi-location deployments.
Through each project, we unite our clients with the right people and resources needed in order to build out high quality, sustainable, and universal infrastructure. From coordinating with utility providers, to working alongside local licensed electricians, to supplying world-class product, reporting & monitoring, and 24/7 care & maintenance - we are here to streamline every solution.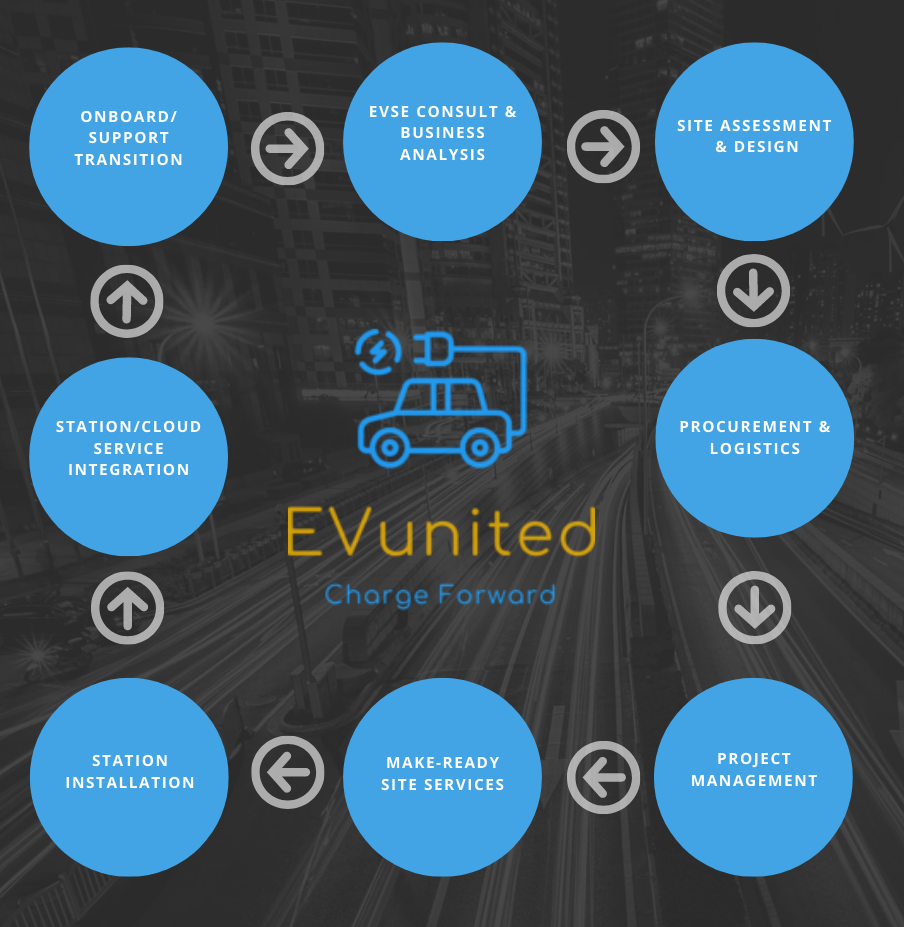 Our turnkey approach makes it convenient and easy to adopt and charge forward with your electrification and renewable energy initiatives. EVunited's turnkey approach to EV charging and Solar makes it possible for our customers to focus on their core business while we handle all aspects of the project, including:

DC Fast, Level 2 & Portable EV Charging
Our networked charging solutions are compatible with all models of electric vehicles as well as many hybrids. We work closely with industry leading electric vehicle supply equipment vendors to provide the highest quality charging station solutions, including installation services, post install support, ongoing care and maintenance, and special project considerations.
Residential EV Charging - Charge at Home
Now that you have purchased an Electric Vehicle or soon plan to, your need to "speed up" your home charging experience is likely desired. We can help - you may purchase a Level 2 Home Charger from us and schedule a full-service installation or install the charger on your own.
Solar Panels, Energy Storage, Solar Canopy, Solar + EV Charging
We provide comprehensive solar solutions for commercial workplaces, serving many verticals (Hospitality, Auto Dealerships, C-Stores and many more). Contact our Team to learn more about how solar can help you reduce your electric utility costs, while providing for a sustainable future.
Interested in EV charging or solar?
Let's Talk About Your Project
Schedule a complimentary consultation with one our passionate Clean Energy Experts!