NEW - The Solar Federal Tax Credit has been increased to 30% and will step down to 26% in 2033 and 22% in 2034!
C-STORE & FUELING STATION
As the automotive industry shifts toward complete electrification, c-store owners and gas station operators can play a vital role in the adoption of electric vehicles by providing charging stations for customers.
The NACS, the association for convenience and fuel retailing, reports that there are more than 145,000 fueling stations across the United States. 127,588 of these stations are convenience stores selling fuel.he number of electric vehicle charging stations is expected to grow exponentially in the coming years as more people make the switch to EVs.
The increase in demand for charging stations has prompted many companies to offer solutions that are both convenient and affordable. This can be a great opportunity for c-store owners and gas station operators who want to add value for their customers while also making sure they're at the forefront of this emerging trend.
The question is no longer -
"Should I be investing in EV charging?"
but rather -
"How can my c-store/gas station use this opportunity to maximize profit?"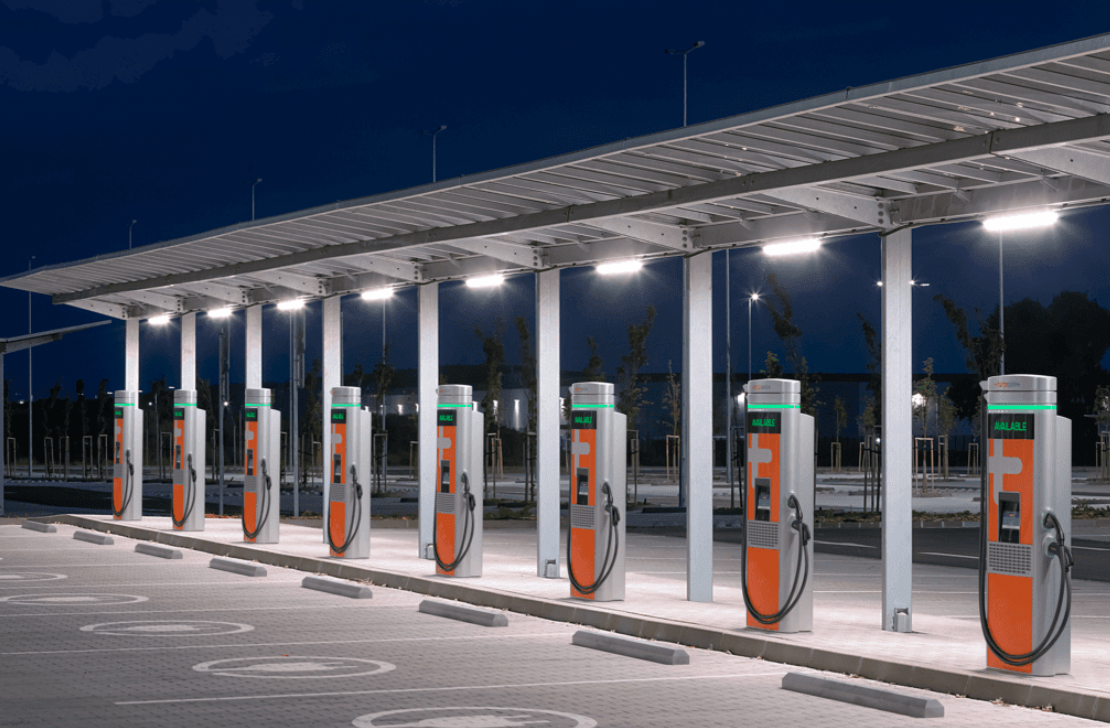 UNIQUE OPPORTUNITY TO FUTURE-PROOF YOUR PROPERTY
C-stores are the forefront of electrification providing frictionless integration that doesn't require drivers to change their behavior. Often located near highways, interstates, or high-traffic, these locations are perfect for EV drivers looking for a quick top-up charge or those on a road trip.
PRIME EV CHARGING LOCATIONS
With broad operating hours - some staying open 24/7 - food, beverage, and Wi-Fi are just a few of the dozens of amenities that c-stores have to offer EV drivers. Coupled with clean and well-lit facilities, EV drivers are sure to have plenty of safe and familiar options to pass the time when charging at a c-store.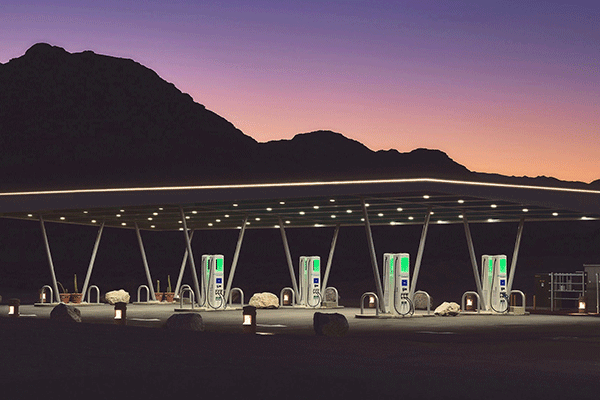 What are the benefits of adding EV charging to your c-store?
Provides an additional revenue stream
By adding electric vehicle (EV) chargers to your property today, you're future-proofing yourself against the rapidly evolving needs of automotive industry and government regulations while also distinguishing yourself as a leader in sustainability among other gas station owners or operators who aren't offering EV chargers as part of their business model yet!
Bring in a new customer base without changing the nature of your business
Charging stations can help bring in a new customer base without changing the nature of your business. The market for electric vehicle charging is growing rapidly, and many people are eager to buy EVs but unfamiliar with where to charge them. By offering EV charging stations at your store or gas station, you're making it easier for people who want to buy an electric car but don't have easy access to public charging stations.
Put your location on EV charging maps, apps, and GPS navigation
Your location will show up on online maps, apps, and in-car navigation as a charging stop. EV drivers are looking for locations to charge their vehicles and this puts your location at the top of their list.
Future-proofs your property to meet the rapidly evolving needs of the automotive industry and government regulations
The automotive industry is rapidly evolving and the charging infrastructure is one of the keys to meeting that demand. It gives consumers more incentive to buy electric vehicles (EVs), which will reduce our dependence on fossil fuels and help protect the environment.
EV charging stations are here to stay, so you have a head start if you're looking at adding them to your property now. As more people start switching to electric, governments continue implementing stricter regulations that require businesses like yours to provide them.
Encourages customer loyalty among the EV driver community
If EV drivers are aware of your gas-station providing EV charging, they will be more inclined to prioritize your brand when identifying locations to charge
When you offer EV charging, you provide a hospitality service to the EV driver community and help them stay on their journey. Because of this, they'll be more likely to prioritize your brand when identifying locations to charge.
They will also be more inclined to stop with you if they need something else like snacks or drinks, which in turn will increase sales of those items as well as hopefully encourage repeat visits.
Distinguishes your brand as a leader in sustainability
It's true that sustainability is a trend right now, but that doesn't mean it won't continue to gain momentum. As more people become concerned with the negative impact of fossil fuels on our environment, sustainability will continue to be relevant in the minds of consumers—and you want your business to be top-of-mind when it comes to sustainable leaders.
LEED certification and other sustainability credits
One of the benefits of a charging station is that it can help you earn LEED certification and other sustainability credits. LEED stands for Leadership in Energy and Environmental Design, which is a green building certification system that provides a framework for designing, constructing and operating high performance green buildings.
The purchase of an EV charging station can be a great way to take advantage of tax/depreciation benefits. The depreciation of the electric car is a business expense, so it is tax deductible. The depreciation of the charging station is also a business expense and therefore has tax saving potential as well.
What are some common concerns that c-store owners have regarding EV charging?
My property does not have adequate electrical infrastructure to support fast charging.
Traditional fast chargers require a lot of power. This type of equipment is typically connected to 3 phase power sources, which are not always found at convenience stores. In the past, this used to be a major concern for c-store operators who would want to install charging but did not have the electrical infrastructure in place nor wanted to pay to upgrade the power.
Fortunately, there are many alternative solutions out there for c-store owners who want to deploy charging without investing heavily into infrastructure upgrades.
EV charging will be another service for our business and employees to manage.
Installing EV charging stations can be a burden on your business - especially when it comes to the deployment of non-networked EV charging. Non-networked EV charging solutions are alluring as they are traditionally less expensive than networked solutions; however, they present a much greater time commitment from the Site Host. With non-networked stations, it is up to the Site Host/employees to be the one monitoring the stations, keeping an eye out for failures and faults, and managing the drivers. This can be quite time consuming - especially, considering the fact that most employees may not have the basic EV education.
With that, EVunited specializes in networked EV charging solutions. Networked EV charging solutions typically have a network or "cloud" plan and a corresponding care/maintenance plan attached. These plans allow the OEM to manage the stations for the Site Host in the case of any errors, faults, driver concerns, etc. The stations are being monitored 24/7 so the OEM can see in real time when issues arise.
In addition to this, EVunited can provide education and training with you and the OEM to make sure you have a solid understanding of the equipment.
I have limited knowledge of electric vehicles. How am I expected to train staff to learn about EVs?
If you're going to be offering EV charging at your C-store, it is important to have staff trained about EVs. You may be thinking "I don't know anything about EVs". Don't worry! We can provide educational resources and support for training your staff.
I am concerned about utility demand charges.
Utilities charge for the maximum amount of electricity that is used at any given time, regardless of how much you use in total during a certain period. EV charging can increase demand charges by increasing the peak load on your site's electric system. This means that you will have more expensive electricity bills if you implement an EV charging program without mitigating it through networked solutions.
With networked EV charging solutions, Site Hosts' can set the maximum power to be used by the charging stations. By throttling this down, you don't have to worry about demand charges and can enjoy lower overall electricity costs at your site by reducing unnecessary costs from the grid.
How do I know what solution will be best for my property? Hardware? Network?
One of the most common questions we see from property owners is, "How do I know what solution will be best for my property?" The truth is that there is no one-size-fits-all solution for everyone. Your needs are specific to your location, site layout, and local charging infrastructure. EVunited's EV Charging Experts would be glad to meet with you to discuss your EV charging needs and develop a solution that will provide maximum value for your property.
The cost of EV charging is too expensive.
While this is a legitimate concern, it's important to understand that EV charging is a long-term investment that can be an asset for your company now and in the future. There are many benefits to EV charging including increased revenue from charging, customer loyalty, competitive advantage and environmental sustainability. These factors make it easier for companies to justify adding EV charging because they see immediate payback from these investments instead of just looking at the initial costs alone.
EVunited offers EV charging solutions at every price point. In addition, there are many grants, incentives and rebates available. EVunited can help you identify any incentives that might be available in your area and make the process of applying simple and seamless. Because we know how difficult it can be to calculate ROI on a new technology such as electric vehicle charging, we also offer financing options with low monthly payments to make this purchase affordable for any business owner. If financing isn't right for your business scenario or if you'd rather own all of your equipment outright, EVunited offers leasing or subscription options as well.
I will lose valuable parking spots.
This can be a valid concern, but it should be balanced with the fact that you are adding another amenity to your store in order to increase traffic and revenue. An additional benefit is that the EV charging station will likely increase dwell times (customers staying longer), which means more people seeing your store and its advertising!
I do not want to invest in EV charging solutions that will be obsolete in 10 years.
EV charging solutions are changing the game, but they're also changing fast. That's why we at EVunited have partnered with industry leading OEMs to develop our EV charging solutions.
We know you don't want to invest in EV charging solutions that will be obsolete in 10 years—we don't either! That's why we've partnered with OEMs who are committed to developing a long-term solution for electric vehicles.
How can I learn more about
how EV charging will benefit my business?
EVunited makes it easy for you to charge forward. Our team of experts can help you determine if EV charging is right for you. We work with business owners - including c-store and fueling center operators - all over the United States. Our goal is to provide each customer with a quality system that will provides maximum value over time. Schedule your free consultation below to learn more!
FREE EV CHARGING CONSULTATION
Ready to learn more about EV charging? Schedule your virtual consultation with one of EVunited's Clean Energy Specialists today!
We're so excited to help you get started with EV charging!